Lease (rent), construction, mortgage, loan or assignment agreements are as Thai contracts governed by the Civil and Commercial Code of Thailand. The legal effect, legal requirements, the extent of obligations and legal duties of a contract (Thai contract law) is primarily codified laws in Book 2 and 3 of the Civil Code. It must be noted that in a civil law jurisdiction the meaning and interpretation of written laws are explained by the Thai Courts (and the highest Supreme Court of Thailand).Samuiforsale กฏหมายไทย isn't simple
---
---
Hire of property (lease, rent, tenancy contracts)
A lease, leasehold, rental or tenancy of an immovable property for residential or commercial purposes in Thailand is as a specific contract governed by the section 'hire of property' in the Civil and Commercial Code. The fundamental principles of hire of property in Thailand are;
a hire of property is a personal right of the lessee and in essence as a contract right not transferable without permission of the owner of the property (section 544);
a hire of property contract is terminated upon death of the lessee, but not upon death of the landlord (section 569);
a hire of property with a period over 3 years must be registered on the title deed at the local land office;
only a written agreement for hire is enforceable by legal action (section 538);
the total registered term for hire of property cannot not exceed 30-years, any longer term is reduced to 30 years (section 540).
As foreigners are not permitted to own land in Thailand foreigners buying real estate in Thailand often enter into a long term land lease agreement. It should be noted that a land or ground lease in Thailand is in essence a personal contract right of the lessee (and as a personal 'land hire' or 'land tenancy' terminated upon death of the lessee). It is not a real right (or property) attached to the land (but to the lessee). A lease in Thailand is not transferable as an asset but can only be assigned as a contract between different parties. A lease agreement does have aspects of a real right as true lease rights are not terminated upon transfer of ownership of the land or death of the owner but in essence it remains a contract attached to the lessee.
Foreigners entering into a long term land lease should consider including a right of superficies. A superficies can be compared with a form of leasehold and as a real right it is primarily attached to the land. A right of superficies is not terminated upon death nor upon transfer of the land.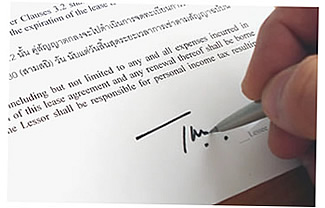 The maximum term a foreigner can obtain a 'leasehold' in Thailand is 30 years.
See also
---
Mortgage and loan (contracts for)
A mortgage is a contract whereby a person, called the mortgagor, assigns a property to another person, called the mortgagee, as security for the performance of an obligation, without delivering the property to the mortgagee. The mortgagee is entitled to be paid out of the mortgaged property in preference to ordinary creditors regardless as to whether or not the ownership of the property has been transferred to a third person.
A loan is a sum of money which is borrowed and has to be paid back, usually together with an additional amount of money that you have to pay as a charge for borrowing. The loan is specified in a loan agreement. Loans and mortgages are often associated with real estate property, whereby the mortgage is registered with the real estate property as security for the lender.
See also
---
Construction contracts
Construction of a home in Thailand is primarily governed by the Building Control Act and the Town and City Planning Act and various regulations issued under these acts. The relation between a employer and the contractor in Thailand is primarily governed by the construction contract and the Civil and Commercial Code and especially the chapter 'hire of work'.
See also
---
Deeds of assignment (contracts)
Deed of Assignment allows one party (the assignor) to legally transfer rights or property they own to someone else (the assignee), either as a gift or in return for a specified amount. The deed of assignment is the legal document or contract stipulating what kind of rights or property has been assigned. The assignor could for example assign his full rights under a sale and purchase agreement (prior to the title transfer) or his leasehold rights under a contract for lease to the assignee.
---

---
The information in this website is made available to give you general information about lease right and building in Thailand and is not intended to be comprehensive nor to provide specific legal advice. We cannot accept responsibility for any inaccuracies, incompleteness of information, errors or omissions in respect of information on our website.