Prenuptial agreement in Thailand
Thai marriage and family laws in Thailand stipulate that personal property (everything you owned and owed before the marriage) remains personal property of each spouse during the course of the marriage (section 1471 civil and commercial code). A prenuptial agreement in Thailand will commonly list personal assets of each spouse and could during the course of the marriage give sole management over certain marital assets to one of the spouses.

---
---
Contracts between husband and wife under Thai family laws
A prenuptial agreement between a man and woman planning to marry in Thailand is recognized in the civil and commercial Code in section 1465. Under Thai marriage laws a prenuptial agreement should primarily relate to property between husband and wife which would otherwise be governed by statutory marriage laws (the chapter 'property of husband and wife'). To make a valid prenuptial agreement in Thailand the prenup must be in writing, signed in front of 2 witnesses and registered together with the marriage and noted in the marriage register. A prenuptial made before the marriage but without proper registration in the marriage register is void. Registration of a prenuptial agreement cannot be made after the registration of the marriage. A prenuptial agreement cannot be altered, except by approval of the court.
Should you do a prenuptial?
If you have a business or assets that you want to protect a prenuptial drafted under Thai law may be beneficial to you. A prenup will protect your personal assets in the event of a divorce and prevents unnecessary disputes over ownership of certain items in case the marriage is later dissolved. It can be used as evidence to confirm your rights to personal property and it proofs among others what you have brought in the marriage. With the prenuptial the marriage should include some form of (yearly) accounting of non-marital assets and marital assets, as in case of doubt as to whether a property is a jointly owned marital property (called sin somros in Thailand) or a personal non-marital property (called sin suan tua under Thai law) that property shall be considered a jointly owned property (section 1474). When you buy a car during the course of the marriage but you cannot proof you paid for it with your own money a court will likely consider the car jointly owned in a divorce, unless you have some written proof that it is a personal asset.
Who manages and controls property of husband and wife?
Control over personal property lies with each spouse. Control over marital assets lies also with each spouse but Thai law requires for certain legal acts concerning jointly owned (marital) assets listed in section 1476 joint consent of the spouses, unless this aspect is governed in a prenuptial agreement. A prenuptial may grant sole management of these assets to one of the spouses, but as section 1476 among others govern real estate property it is important to realize that real estate in Thailand acquired during the course of the marriage will often be held as a personal property of the Thai spouse and not as a property of husband and wife. The right to manage assets given to a foreign spouse does in any case not apply to land in Thailand acquired on the name of the Thai spouse, irrespective what is written in the prenuptial agreement.
Divorce and prenuptial
An important aspect of a prenuptial is of course the weight given to it in a contested divorce. The family courts in Thailand have in the end to determine the enforceability of the clauses in the contract as any provisions agreed in the prenuptial against good morals or against the law will be void. As Thailand has a civil law system (not judge made law) the primary source of law is the civil and commercial code, book 5 marriage laws.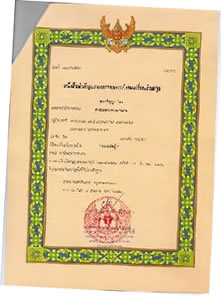 The prenuptial in Thailand must primarily govern property of husband and wife, but any clause in a prenuptial for division and ownership of property and debts in conflict with an equal division could be deemed void (section 1533: 'upon divorce, marital property shall be divided equally between man and woman'). To determine the valuation of property which consists out of personal and marital property is complex unless a prenuptial agreement has been made and husband and wife kept a form of accounting during the course of the marriage. The court has the discretion to value it based on individual circumstances and of course according to the laws of Thailand (also see 'who gets what in a divorce).
Marriage with international elements
When making a prenuptial agreement in a marriage with an international dimension the prenup could include a provision in which the couple designate which country's law should apply to their matrimonial property. This is especially important when there are different nationalities involved and there are assets in another jurisdiction(s) you want to protect, and/or when you plan to live in another country after the marriage. Note that a prenuptial agreement you make in Thailand under Thai law may not always be fully recognized in other countries (and vice versa), or there may be a conflict of laws between different jurisdictions. It could also be that under the laws of the other jurisdiction the couple could in the prenuptial exclude any form of creation of marital or matrimonial assets and strictly separate personal assets during the marriage. When the marriage has an international dimension, the couple should in addition to legal advice in Thailand obtain legal advice from a legal professional qualified to give legal advice under the laws of the other jurisdiction involved. A properly drafted prenuptial in a marriage with international elements, including a valid choice of law, could prevent that property of husband and wife are divided in a divorce or at death in a way you did not anticipated.
How to make a valid prenuptial under marriage laws
Formal legal requirements under Thai law:
1 - the content of the prenuptial made in Thailand cannot be against the law or good morals (section 1465);
2 - both the prospective husband and wife must understand the content of the (Thai-English version) prenuptial;
3 - the prenuptial in Thailand must be made before the marriage, a contract between husband and wife concerning personal and jointly owned property made after the marriage registration (post-nuptial) is void (section 1466);
4 - both prospective husband and wife must sign the prenuptial in the presence of at least 2 witnesses and the agreement must be entered into the Marriage Register together with the marriage registration (section 1466).
How to do a prenuptial in Thailand
Before the marriage in Thailand:
Contact your embassy in Thailand for the required official documents for marriage (among others for the statement of marital status that you are free to marry)
Prepare official translations of these documents (your embassy can advice in the procedure and documents, if it is not already on your embassy's or consulate's website)
Note: Should your Thai fiancée just come out of a previous marriage (within 310 days) a doctor's certificate is required to state that she is not pregnant (section 1453 Civil and Commercial Code)
At the same time:
prepare the Thai English script prenuptial and exhibits to the contract as downloaded in the ZIP-file)
print 3 sets of documents to be taken to the government office together with the other documents
bring 2 witnesses to the wedding at the local amphur for witnessing the wedding and signing the prenuptial.
Note:
The completed and prepared prenuptial contract needs to be presented to the government official conducting the marriage together with the other official documents required for the marriage registration. Under Thai law "the prenuptial agreement is void if not entered in the Marriage Register at the time of marriage registration stating that the prenuptial agreement is thereto annexed. source : section 1466 Civil and Commercial Code Thailand
See also
---

---